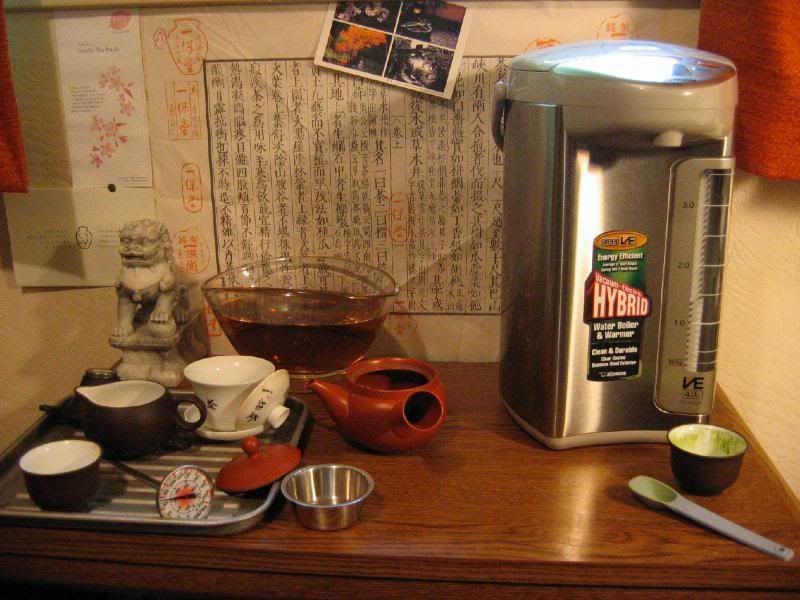 Much has happened since my last update. As can be seen in the last 2 posts, I have gotten deeply involved with a great tea called Fukamushi Sencha. In fact, I have almost entirely diverted my green tea consumption to Japanese teas, and I'm really loving the change. This change could also lead to a very different tea-blog that concentrates almost entirely on Japanese teas(change in title included).
Of the Japanese teas, my primary drink is Sencha. Sencha is the most commonly drunk Japanese tea. The main thing that makes Sencha different from Chinese teas is that it is steamed to stop the oxidation process. In my opinion, this allows Sencha to retain the more grassy flavors, while Chinese(pan-fried)teas take on a more "foody" taste. Sencha carries with it a perfect blend of sweetness, sharpness, and wonderful aroma.
I hope we have all tried Rishi's Fukamushi by now?
If not, you can have the honors!
Hehe, just kidding.

Time for another tea review!

While I was scanning Rishi's selection, I came across an interesting flavored Japanese tea, called
Yuzucha
.
The reason I decided to give this flavored tea a try was because it seemed strictly Japanese. Yuzu is a small Japanese citrus fruit that is used in various Japanese dishes(
wiki
), while "cha" means tea. The main ingredient in this blend is a Sencha(1st flush). -I have a slight problem with this assertion, as the Yuzucha is full of stems. This makes it seem to be more of a Kukicha or Karigane(twig teas)-. Also in this yuzu-flavored blend is a small amount of matcha, but not much. I really wish they would have added more matcha, as I find adding matcha to a whole-leaf tea really adds to the fullness of the tea. (The sencha I'm drinking now is Sencha Hosen from Ippodo teas. It produces a very clear, light liquor, so sometimes I add some matcha when I want a more bold and "powerful" tea.)
Getting to the actual leaf, the dry smell is quite intoxicating.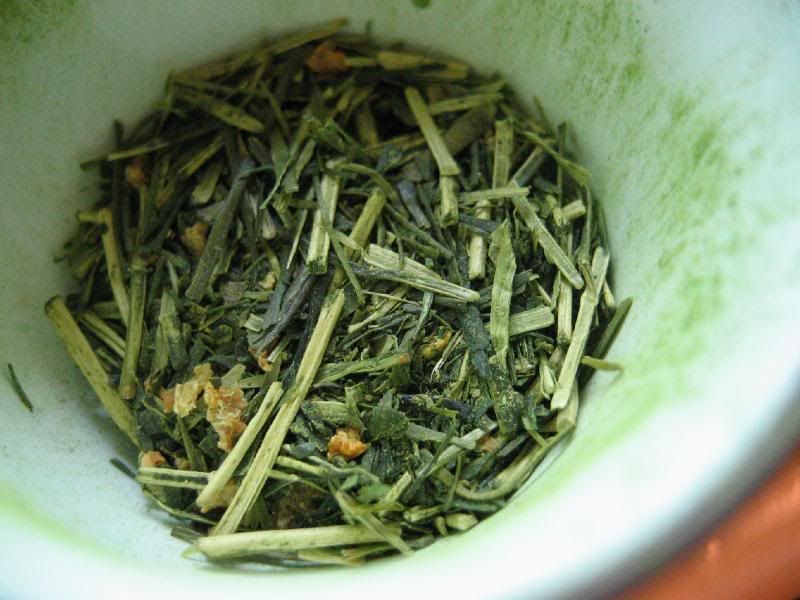 Out of the bag flows a strong, citrus-sour fragrance. The smell is very natural, and very pleasant. The tartness in the smell is a bit similar to Hibiki-an's Karigane Sencha. A tinge of the singular matcha smell follows the citrus.
The dry leaf is very nice, altogether giving high expectations for the brewed tea.
At 3 tsp/300mL for 1:30m: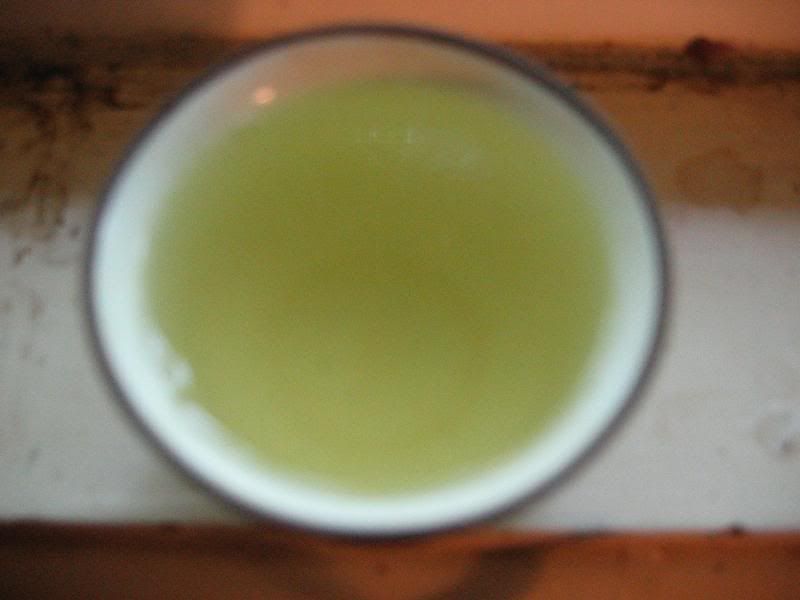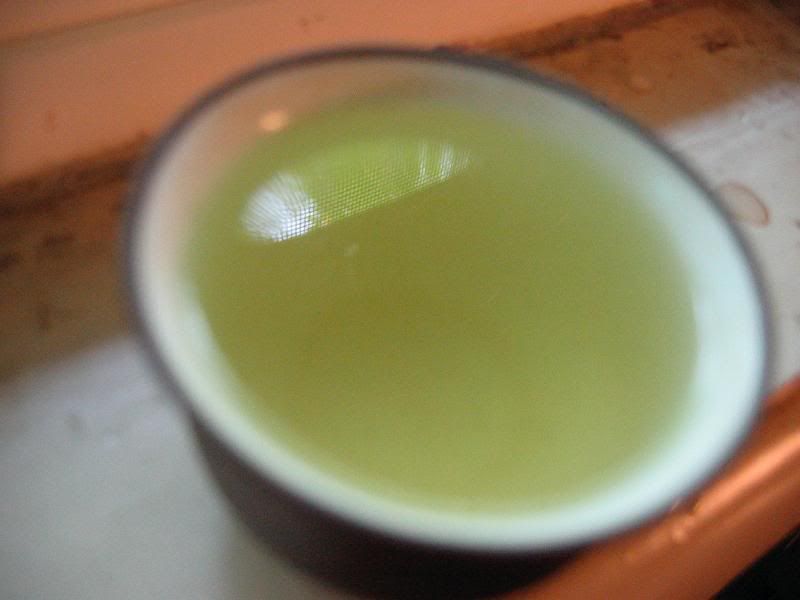 Sorry about the blurriness, but I just couldn't get it to work. It's also a bit greener in person.
The smell of the tea is predominantly a sourness from the Yuzu. Yet this yuzu smell is followed by a karigane-tartness which is probably the smell of the stems. The smell is also sweet and floral(senchaness).
Tasting the Yuzucha was a bit of a disappointment. It's really not that bad, but the wonderful citrus aroma of the dry leaf leads to expectations of a strong yuzu-citrus flavor. This was not the case. The first noticeable flavor is that of matcha, a deep, yet airy sweetness(this taste is very light). In the background is the mellow, floral sweetness of the Sencha. A light tartness is mildly noticeable as it hits the back of the tongue and the throat, the tartness seems to be a combination of the more sour yuzu with the more "tart" karigane (this tartness develops in the throat, getting stronger and stronger).
Perhaps caused by the accumulation of the yuzu taste in the back of the mouth/throat, the 2nd steeping of the tea tastes more sour(more yuzu). The 2nd steeping also has a deeper flavor of sweetness, more rounded.
In
retrospect
, the tea is not strongly flavored, but carries a more natural character. I find that I have more respect for a flavored tea that is more of a tea, and less of a flavor. My opinion of this tea is that it is a lightly sour-tart yuzu-flavored karigane tea with a touch of matcha to add a tinge of thickness. Yuzucha will serve well as a mildly flavored tea that can be treated as a palatable departure from the usual grassy and vegetal flavors of Japanese green teas(note: Japanese greens are much more than just "grassy and vegetal!").
With yours truly being neck-deep in schoolwork this quarter, the blog posts will probably decrease greatly in length. I will still try to get notes in on all the "notable" teas I try. Until next time...
I'll be a brewin'
A much greater focus on Japanese teas is taking hold.