Time for a photo-review. I had to buy milk and tortillas at the local "Market of Choice," to my surprise I found a Sencha and a Dragonwell in the spice section. I decided to save the Sencha for next time, but purchased a small amount of the Dragonwell, which ended up being $1. The Dragonwell was attractively priced at $25/lb while the Sencha was over twice that at $56/lb.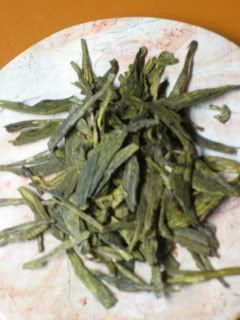 And then I steep it and turn one thing into two!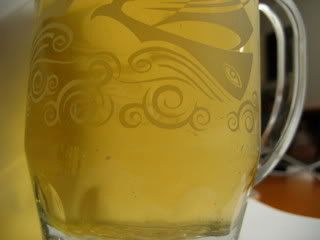 The color is lighter than the picture shows, yellower. The tea is a great example of Dragonwell, having a light flavor while carrying with it a reminiscence of spice. I feel that the tea is very fresh.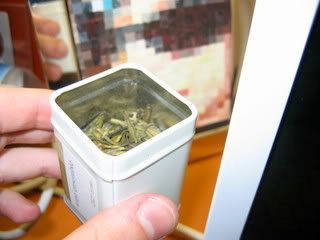 I put it into an old Adagio tin, and this is the picture of what was left after the first steeping (keep in mind that I steep into a 2.5 cup mug, using on average three teaspoons of leaves).
-"Grin of Approval"-
Great, clean taste, very inexpensive, locally available: my cup of tea.
A taste of what's to come: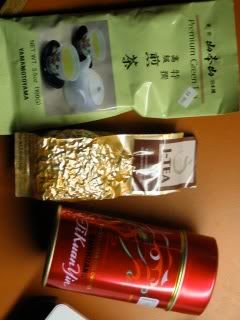 Two of them are oolongs, I know, yet we must give them a chance, hidden under those wrappers may be the marvelous virescence of a great tea.
Have any questions? Want more/specific pictures? Let me know!